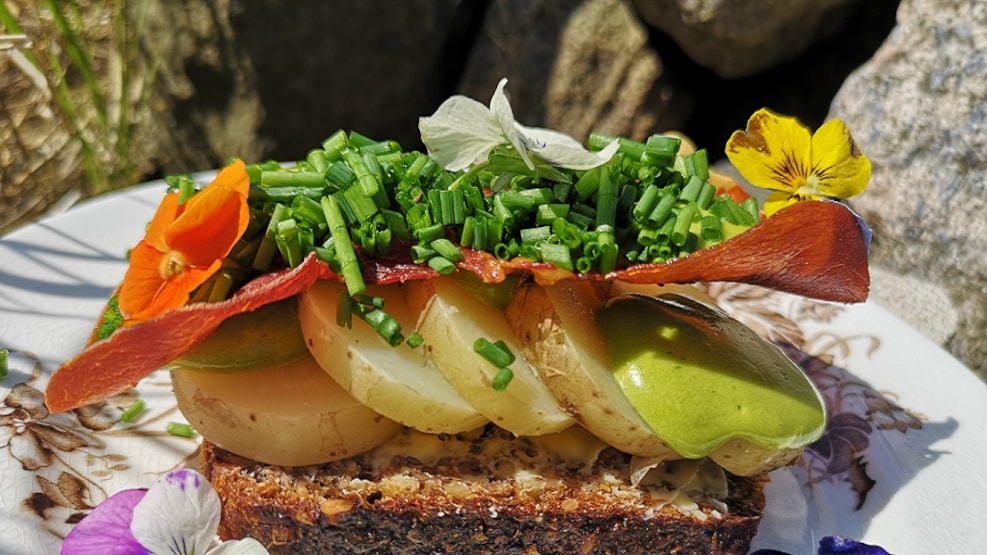 Kafé Kamma
Follow @kafekamma on Facebook and Instagram and you won't miss anything..., even when we make special events.
Kafé Kamma will this summer be a pop-up café in Løgismose Forest - planted in the middle of the most glorious nature. Here you can enjoy wonderful food and really good coffee together with the view of Helnæs Bay. You get a real bite of Southwest Funen, because we have carefully selected the most delicious local ingredients. If you have trotted on the Lillebælt Trail for hours, or you have sore a sore bottom from a long bike ride, then Kafé Kamma is the place to refuel. If you like to swim, remember swimwear.
At Kafé Kamma you can, among other things, get a nice rustic open sandwich or a fabulous Funen "brunsvigersnurre". We have wonderful cold drinks and not least a really, really good cup of coffee. All served with smiles and a strong anchoring in local ingredients from the large pantry of Funen.
Also look forward to experiencing Lucky Sailor aka Mikkel Thomas,  the sailing musician. This summer he sails from Zealand to Løgismose Skov at the pop-up café, Kafé Kamma. Mikkel debuted with the album "Ind under coat" in 2006 and has just released "Juggling".
Beyond that, there's a great ice cream tasting event with brand new "Icepops" making handmade organic ice cream. Estate Coffee comes by and shares their vast knowledge of fabulous coffee and Surdejsbrødet makes a special event with lots of delicious bread.