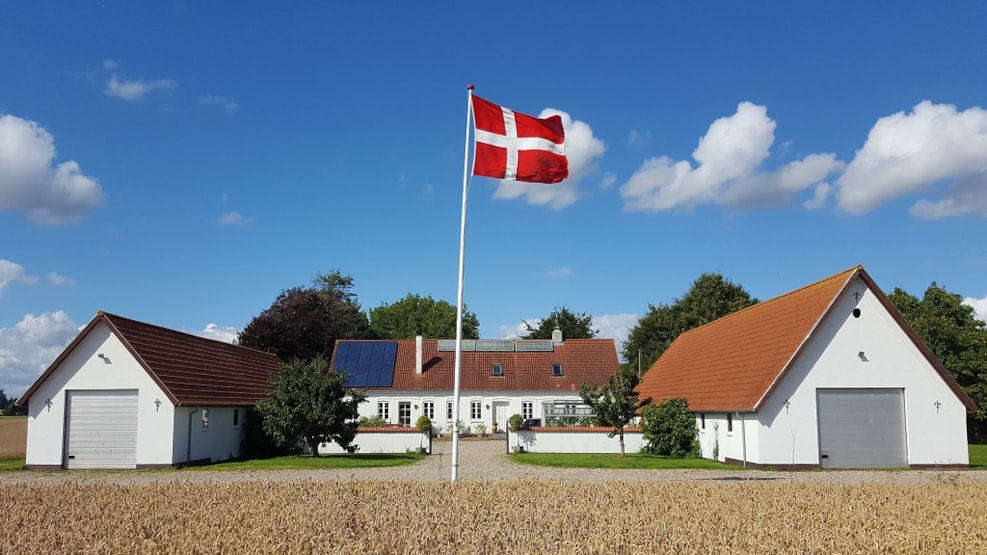 Holiday Apartsment - Agermosegård
Agermosegaard is an old parish farm from 1875. Apart from the farm is a holiday home where holidaymakers can enjoy their stay in peace and quiet. The cottage accommodates four overnight guests and is furnished with a kitchen that is a good alternative to a traditional bed and breakfast. The farm is located on the outskirts of Barløse and from the terrace you have a view of the lake, the church, the Christmas tree plantation and the Funen hills and cultivated fields.
The holiday home accommodates 4 guests and has a total size of 66m². It is furnished with two bedrooms, one bathroom, a kitchen room. The kitchen has all the tools needed to prepare a meal for 6 people. The holiday home is furnished with a highchair and a cot for smaller children. For big and small children we have swings and a sandbox where they can safely play. The holiday home has fiber bandwidth (300/300 mbit.).
The Funen coast and beach are only 5 km away. From the farm and here, several holidaymakers meet in the summer for a dip. Our local grocery store is located in the nearest town of Sandager, which is just 4 km from the farm. Assen town is small 8 km. from the farm where you want good fishing opportunities, find a variety of shops and find a wide range of eateries. The local golf course is within walking distance of the farm, Middelfart 25 km. and Odense 30 km from the farm.
Prices
Daily rent 899, - Dkr.
Weekly rent 5.700, - Dkr.
Long term rent by arrangement
Included in the rent is the bed linen, clean towels and cleaning of the holiday home after departure.
Arrival: after kl. 16:00
Departure: before kl. 11:00
If you have questions regarding Agermosegaard, Assens or Funen, you are always welcome to contact us at the farm or on our website agermosegaard.dk.