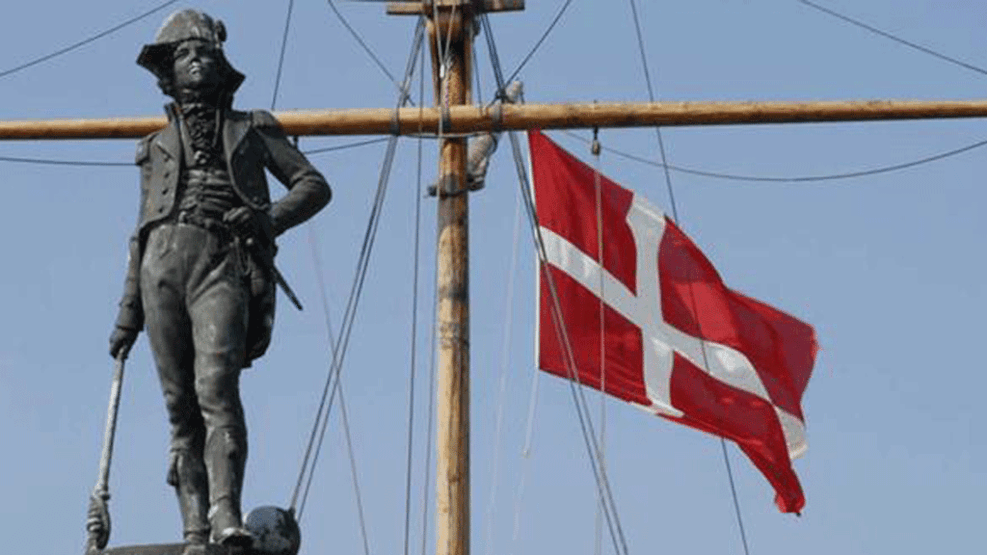 Statue of Peter Willemoes
The bronze statue in Assens stands in an outline of the ship, 'Prins Christian Frederik', on which Willemoes met his death at the Battle of Zealand Point in 1808.
Peter Willemoes was a Danish naval officer, who is famous for his heroic contribution during the Battle of Copenhagen in 1801. He was born in Assens in 1783, and died in battle with the British navy at the age of 24 in 1808. A statue of Willemoes was erected in the harbour in Assens and the house where he was born is now a museum.
Peter Willemoes (1783-1808) was born in Assens, where his father, Christen Willemoes, was the district revenue officer. As a 4-year-old he was registered as a sea cadet and at the age of 12 he entered the Royal Danish Naval Academy in Copenhagen, where H.C. Snedorff was in charge. The relationship between Snedorff and Willemoes became increasingly difficult, but Willemoes finally left the naval academy in August without being broken by Snedorff's harsh discipline.
In the following years, disagreements between Denmark and Great Britain developed. Great Britain sent a large fleet towards the Baltic, but had to defeat the Danish navy in order to secure its rear. This led to the Battle of Copenhagen on 2 April 1801, when a superior British force attacked the underequipped Danish navy. Willemoes was called up and at the age of 17 was named commander of a floating battery, Flådebatteriet Nr. 1. This had 24 cannons and a crew of around 150 men.
During the Battle of Copenhagen, Willemoes fought against Admiral Nelson's flagship, HMS Elephant, in the defensive line at Kongedybet. Willemoes was known for his great spirit and courage, which never weakened in keeping the spirits up of his hard-pressed crew. In the end, he hooked onto the Elephant, which due to its size couldn't hit Willemoes' ship, which lay too low in the water, and was able to fire many shots at the larger ship.