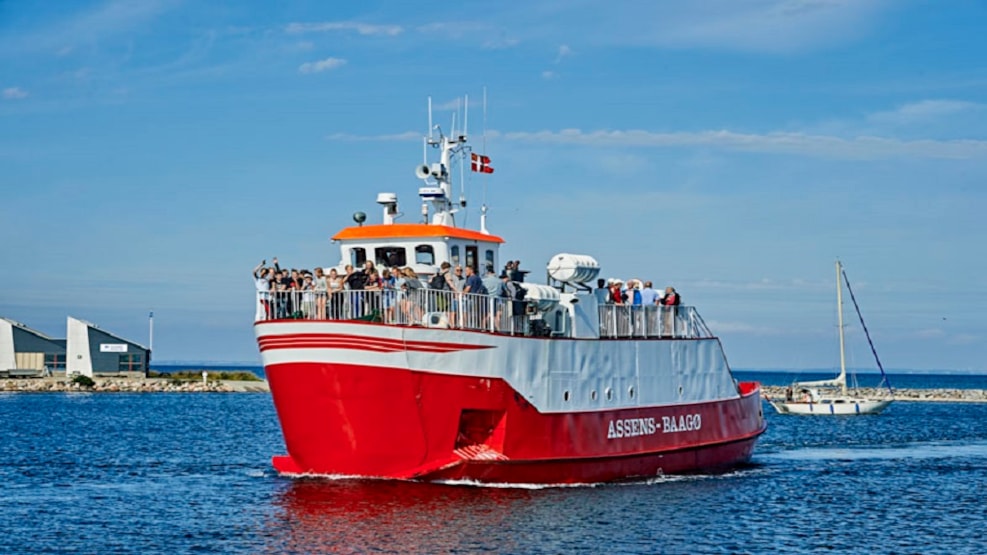 Baagø
Baagø is a small island in the Little Belt, a 30-minute boat ride from Assens. Baagø is sometimes windswept and the environment can be harsh in winter, but it's an idyllic island when spring arrives. The abundant natural areas offer peace and quiet for nature lovers, who can easily enjoy several days on Baagø.
Baagø is situated in an EU bird protection and Ramsar area, offering fine opportunities for birdwatching. In the spring of 2003, two birdwatching hides were set up for this purpose. Fine walking and cycling trips are also possible on Baagø.

Bicycles for hire (self-service) in the harbour.
There are 30 adult bikes and 20 children's bikes.
Leave payment in the box, take a bicycle and return the bicycle to the same place afterwards.
Price: 20kr per cycle, 5kr per trailer.
Tel: +45 64 71 25 27.
In the village of Bagø at Prinsehøjsvej 8 is "Hestestalden" (the Horse Stables), which has a coffee machine and an area where you can eat your packed lunch. Coffee, ice cream and other items are sold here.
The room can seat 80 people.
Hestestalden is open from 1 April to 1 November.
There's a sign by the road and over the door.
It also contains a small local museum displaying old agricultural tools used on Baagø, which has changing exhibitions.
Further information is available by contacting Poul Nielsen on tel: (+45) 64 71 25 27.
Accommodation on Baagø:
Camping:
This campsite located in the beautiful Baagø countryside, has 50 places and is only 75 metres from the harbour. The campsite is open from 1 March to 1 November.
Toilets and bathing facilities are shared with the harbour. Please register in the shop on arrival.
Camping Baagø. For further information contact Søren Bertelsen on mobile: +45 20 43 85 11 or Dick Prebble on mobile: +45 20 13 82 63.
Bågø Naturcenter:
It's possible for groups, school camps and others to stay overnight at the island's former school and teachers' building – now Baagø Nature School (Naturskolen).
The Nature School has good facilities, and up to 26 guests can stay overnight. There are also teaching rooms with field equipment and manuals. The setting is ideal for school classes, other educational institutions, nursery schools and large groups.
To book online: her
Ranger Christian Heller
Mobile:  + 45 24 90 44 64
Email: naturvejledning@assens.dk
Website: www.assens.dk/naturcenter
Provisions on Baagø island:
You can buy provisions and order breakfast rolls and bread in the shop.
Baagø souvenirs and postcards are also sold here.
The shop has the following opening hours:
June – August: At ferry arrival and departure times, see www.baagoe.info
At other times, please ring on tel: +45 30 34 76 54.
Transport to Baagø:
Baagø is accessible from Assens by ferry (thirty minutes each way).
A small number of cars can be transported, as well as around 50 passengers.
Baagø ferry:
Remember to book tickets for the Baagø ferry, tel: +45 64 71 41 42.
Ferry timetables.
Images from Baagø:
Tour to the Island of Baagø Denmark (by Rony Zmiri)