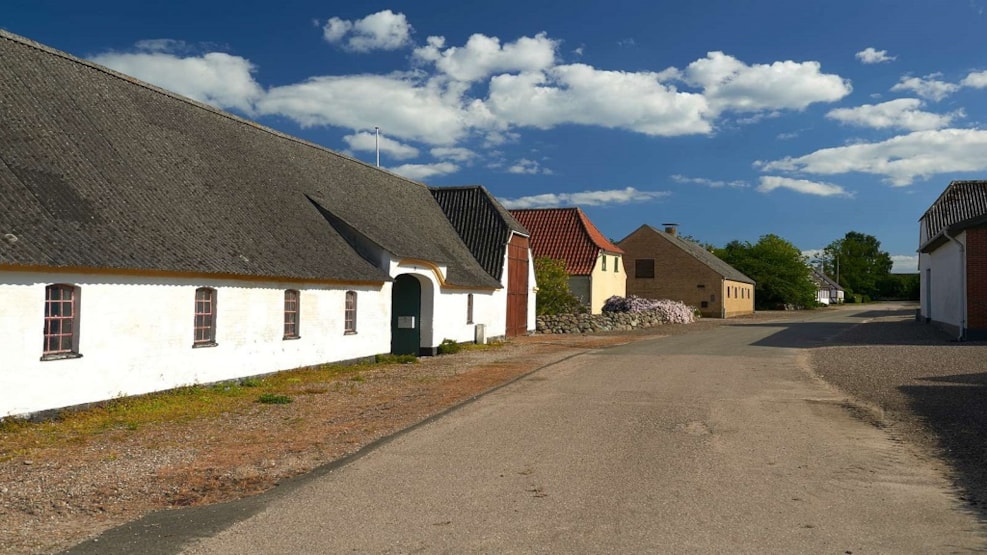 Bågø
Baagø is a small island in the Little Belt, a 30-minute boat ride
from Assens.
Baagø is sometimes windswept and occasionally harsh in winter, but is
idyllic indeed when spring arrives. The abundance of nature areas 
provides peace and quiet for nature lovers who can easily while away
the time for several days on Baagø. 

Baagø is situated in an EU bird protection and RAMSAR area
affording fine opportunities for birdwatching. In the spring of 2003,
two birdwatching blinds were set up for this purpose.  

Fine hiking and cycling trips are also possible on Baagø. 

Bicycles for hire (self-service) on the waterfront.
There are 30 bicycles for adults and 20 for children.
Leave payment in the box, take a bicycle and return the bicycle to the same place.
Price: DKK 20 per cycle, DKK 5 per trailer.Tel.: +45 6471 2527.

In the village of Bagø at Prinsehøjsvej 8 is a facility called "Hestestalden" (Horse Stables) with an automatic coffee machine and an area for eating one's packed lunch. Coffee, ice cream, etc., sold here. The room can seat 75 people.

The facility is open from 15 April to 1 November. There is a sign by the road and over the door. The facility houses a small local history museum and displays changing exhibitions on the walls.


Accommodation on Baagø:

Camping:
This campsite is located in the beautiful Baagø countryside, has 50 plots and is 75 metres from the harbour.
The campsite is open from 1 March to 1 November.
Toilets and bathing facilities are shared with the harbour.
Please register in the kiosk upon arrival.  

Camping Baagø - contact information:
Søren Bertelsen, Mobile: +45 2043 8511
Dick Prebble, Mobile: +45 2013 8263

Bågø Naturcenter
It is possible for groups, school camps, etc., to spend the night at the island's former school and staff building – now Baagø Nature School (Naturskolen). The Nature School has fine lounge and accommodation facilities (sleeps 26). 
There are also classrooms with field equipment and manuals. The setting is ideal for school classes, other educational institutions, kindergartens and large groups. 
For Private: It is possible to rent a room for 4 Personen 


Bågø Naturcenter, represented by Nature Guide Christian Heller
Mobile: +45 2490 4464
E-mail: naturvejledning@assens.dk 
www.assens.dk/naturcenter

Provisions on Baagø island:
It is possible to buy provisions and order breakfast rolls in the kiosk. You can rent linen and towels in the kiosk.
Baagø souvenirs and postcards are also sold here. The kiosk has the following opening hours:
June – August: At ferry arrivals and departures, see www.baagoe.info.
At other times, please phone tel. (+45) 3034 7654.

Transportation to Baagø
Baagø is accessible from Assens by ferry (thirty minutes each way).
A small number of cars can be conveyed in addition to about fifty passengers.

Baagø ferry: Tel.: +45 6471 4142 
For ferry timetables and general information about Baagø, visit www.baagoe.info 
Remember to book tickets for the Baagø ferry: Tel: +45 6471 4142.