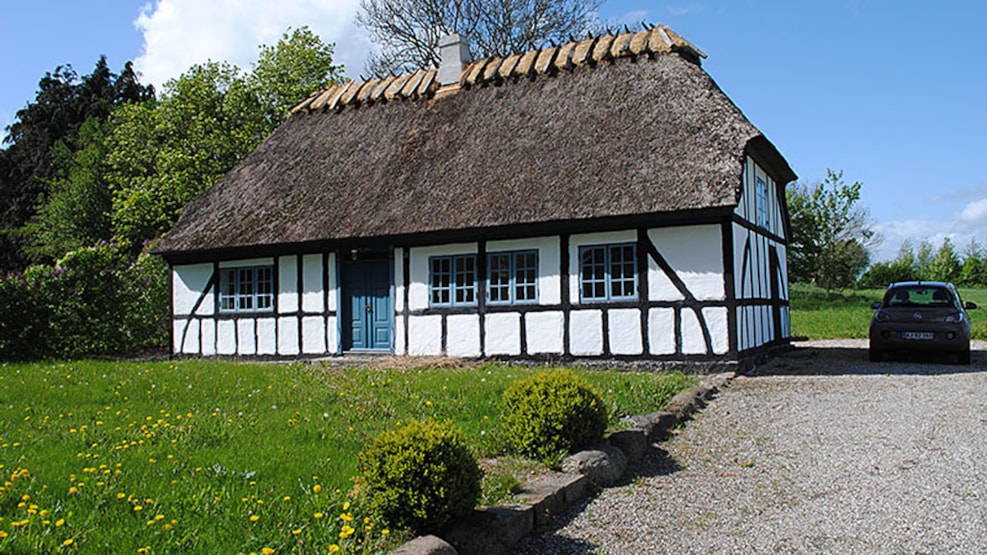 Half timbered house for rent
Newly renovated house of 65 m2 for rent on a weekly basis to people who want peace and quiet.
The house consists of living room, dining room, bedroom with 2 beds, kitchen and bathroom, utility room and hallway.


Everything is newly renovated after the order listed buildings current regulations.
Large garden with patio plants.


Located in beautiful rural surroundings.
Opportunities for cycling in the area - situated close to the several golf courses.
Distance to beach,
10 kilometer.
Distance to forest and shopping, both Glamsbjerg and Hårby, about 4 kilometer
Nearest town Assens with several museums and cultural offerings.
There is 5oo meters to the nearest bus stop.


Galleries, antique shops and lovely castles are just some of the things found in the beautiful west Funen region.


Weekly: from Saturday.
15:00 (vacating days before. 11:00) Rental price per.
week DDK 2.000, - Deposit DDK 800, - (covers electricity consumption, etc.) Excess amounts returned by the relocation (please account no.) Cleaning before departure-  DDK 500 (if you do not clean). El
calculated after usage.


The house can accommodate a maximum 2 persons. You can r
ent the house from the 1. of April to the 1. of November. The house is heated with electricity and wood stove.
Rent + deposit on account: Reg. No. 0570 Account no. 1907476 Sydbank

Please contact me at: Tel. 64752284 - 40252284 or Mail: winding@vinbladet.dk