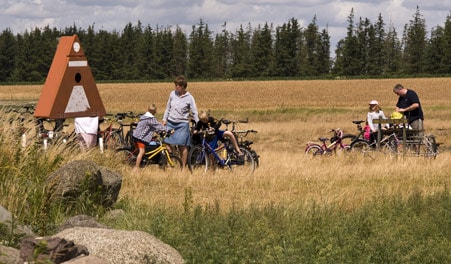 Hestestalden Bågø
Baagø is a small island in the Little Belt, a 30-minute boat ride
from Assens.

In the village of Bagø at Prinsehøjsvej 8 is a facility called "Hestestalden" (Horse Stables) with an automatic coffee machine and an area for eating one's packed lunch. Coffee, ice cream, etc., sold here (just cash). The room can seat 80 people. The facility is open from 1 April to 1 November. There is a sign by the road and over the door.
The facility houses a small local history museum and displays 
changing exhibitions on the walls.

Further details are available by contacting Poul Nielsen, on 
tel. (+45) 6471 2527.

Baagø is sometimes windswept and occasionally harsh in winter, but is
idyllic indeed when spring arrives. The abundance of nature areas 
provides peace and quiet for nature lovers who can easily while away
the time for several days on Baagø. 

Baagø is situated in an EU bird protection and RAMSAR area
affording fine opportunities for birdwatching. In the spring of 2003,
two birdwatching blinds were set up for this purpose.  

Fine hiking and cycling trips are also possible on Baagø. See the pamphlet "Tracks in the Landscape" available from the Assens Tourist Office.
Further details are available at www.spor.dk.

Transportation to Baagø
Baagø is accessible from Assens by
ferry (thirty minutes each way).
A small number of cars can be conveyed
in addition to about fifty passengers.

Baagø ferry: Tel.: +45 6471 4142 
For ferry timetables and general information about Baagø, visit www.baagoe.info .
Remember to book tickets for the Baagø ferry: Tlf.: +45 6471 4142.