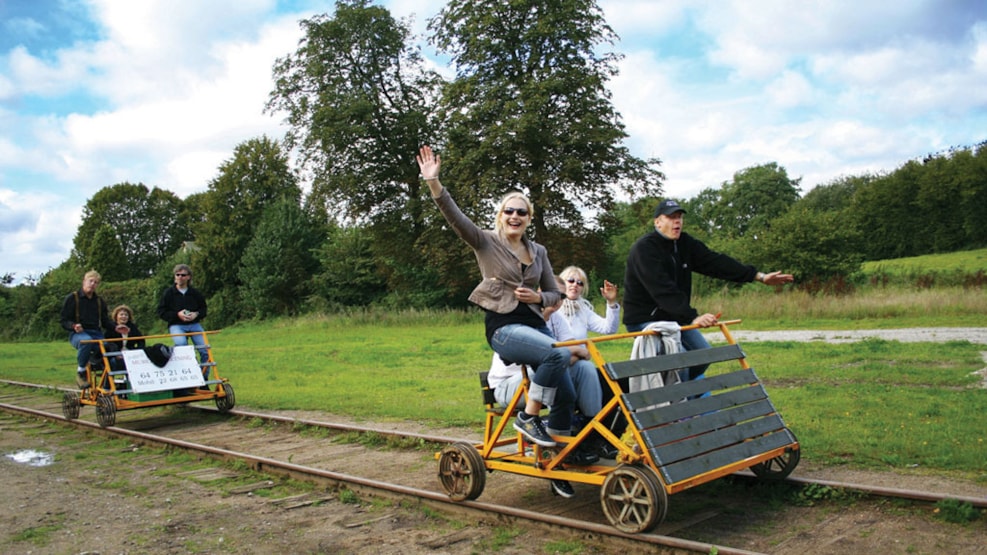 Trolleycycling
Trolleycycling

Enjoy the countryside in a completely new way - rent a trolley cycle. A different type of experience for the whole family.

The route takes you from Tommerup Railwaytown to Assens, a trip of about 30 km. The route goes from Tommerup Railwaytown to Tommerup and on to the small village of Nårup, with its old station. From Nårup the route goes along the woods of Krengerup to Glamsbjerg, Flemløse, Ebberup and Assens. Between Glamsbjerg and Assens you will get a view of the interesting looking Dreslette church, the beautiful Helnæs bay and the charming fishing village, Thorøhuse. Your can start your journey at Assens, Glamsbjerg or Tommerup. The bikes always have to be returned to starting point.

Trolley cycles are easy to pedal. They fit up to 3 adults or 2 adults and 2 children including luggage. Children under 18 have to be accompanied by an adult.

Information:
VisitAssens
Tlf.: +45 2337 8466

Booking:

GLAMSBJERG
Circle K
Odensevej 14, 5620 Glamsbjerg
Tlf.: +45 6472 2202
Mail: 10234@circlekeurope.com

TOMMERUP
SuperBrugsen
Tallerupvej 16, 5690 Tommerup
Tlf.: +45 6476 1418
Mail:  06217@coop.dk
ASSENS 
SuperBrugsen Assens
Søndre Ringvej 10
5610 Assens
Tlf.: +45 4211 7984